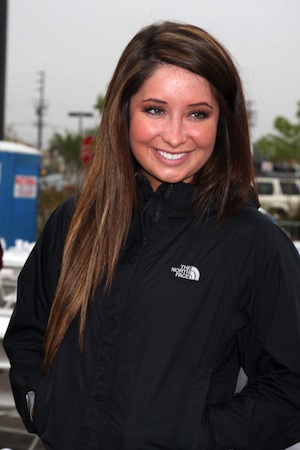 The network announced today that Sarah Palin's oldest daughter Bristol will star alongside Joan and Melissa Rivers when Celebrity Wife Swap returns with its new season on June 23, 2013.
Bristol and her 4-year-old son, Tripp, will leave the cold comforts of Wasilla, Alaska, and move to Los Angeles, California, where she'll live with Joan Rivers for two weeks. The premise is that Bristol takes over for Melissa and Melissa heads to Alaska to fill in as Bristol.
Bristol Palin's failed reality show cost Alaska taxpayers $ 350,000 >> Since Bristol Palin is used to a relaxed and casual home environment, ABC explained the major Hollywood lifestyle of Joan and Melissa Rivers was an uncomfortable adjustment Palin.
"Every day in the [Rivers] house is scheduled to the minute. While the Rivers' home is bustling with assistants, crew members, and cameras, the family still finds time to sit down for dinner every night. Stepping into Melissa's shoes, Bristol Palin is not prepared for the Rivers' formality and schedule, and is reluctant to fill in as the executive producer for [their television show] Fashion Police.
Joan and Melissa Rivers plan creepy new mother-daughter series >> Not to be outdone, the Celebrity Wife Swap episode also shows Melissa Rivers in total shock at the lack of structure in Bristol's life.
"What Tripp says goes in the Palin household," said ABC. "When Melissa Rivers arrives in Wasilla, she's surprised to see snow on the ground — in May! Meeting [Bristol's younger sister] Willow and Tripp, Melissa finds it a challenge to deal with Tripp's boyish exuberance, and feels that he needs to have a set daily routine.
Our translation: Joan and Melissa Rivers live crazy overbooked lives in Hollywood glamour while Bristol Palin leads a messy and chaotic life with her lax parenting style.
Watch the full episode of Celebrity Wife Swap toatch all the drama that goes on with Bristol and Melissa on Sunday, June 23, 2013 on ABC.
Photo courtesy of Nikki Nelson/WENN.com