What are REITs, and how do they work?
A Real Estate Investment Trust, or REIT, is a collective investment vehicle that invests in real estate, and allows investors the opportunity to own property without the landlord responsibilities. REITs are required to distribute at least 90% of their dividends to shareholders, which provides residual income for investors. If screened properly, a REIT can be an attractive income generating asset in any portfolio. However, REIT investors must understand the risks and tradeoffs that come with the territory. The U.S. housing crisis of 2007 taught investors that like any investment, REIT investments are not always guaranteed. With the right tools however, even smaller REIT investors can gain an income producing position in commercial, residential or industrial properties.
Invest in Income Generating Real Estate
REIT Types: Equity, Hybrid, and Mortgage
Each REIT has a different focus and invests in different kinds of properties in different ways. For example, one REIT might generate income by owning a shopping mall building. Another might collect interest on mortgage loans. Still, other REITs might have a diversified strategy that covers many kinds of real estate. REITs can also specialize in a specific industry such as multi-family housing, healthcare, data warehousing, manufacturing, or any other field which owns property.
There are three main types of REITs: Equity, Mortgage, and Hybrid
Real Estate Investment Trust
Choosing the right REIT for your investment portfolio
Choosing the right kind of REIT can be tricky, as not all REITs are created equal. Professional investment managers typically screen hundreds of REITs in many different forms including: public non-traded, public traded, private, ETFs, and mutual funds. It is always a good idea to work with an investment professional that has the resources to help you identify the right REIT investment for you.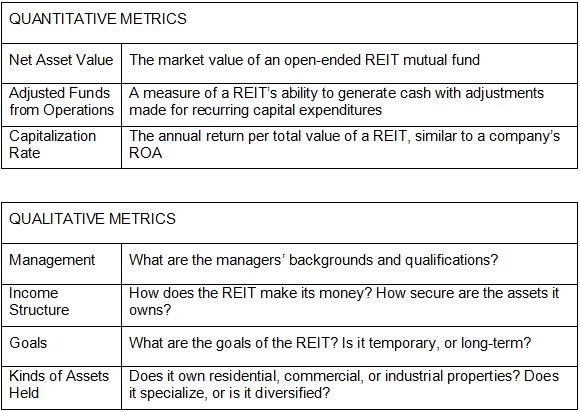 Donald Conrad is the president of Conrad Capital Management, an independent investment manager and financial advisor headquartered in Long Island, NY. Conrad Capital Management offers professional investment, financial, tax and insurance planning services. With offices in New York and Florida, Conrad Capital has held Paladin Registry's 5-star rating since 2007. For more information on professional money management, please visit: www.conradcapital.com.