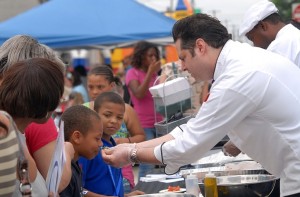 ARAMARK was among a small group of top employers receiving the highest Platinum honor. This is the fifth consecutive year that ARAMARK has been recognized by the National Business Group on Health and the first year at the Platinum Award level.
"At ARAMARK, we have the commitment and the expertise to help educate, enable and encourage people of all ages to adopt healthier lifestyles," said Valerie Wandler , Senior Vice President, Human Resources Services, ARAMARK's senior VP of Human Resources Services.
One of the key components of ARAMARK's strategy to promote employee health is the Take Care program. The program fosters a culture of wellness among employees and their families by providing them with the plans, resources and tools to help with their health, family, finances and future. The program offers a full range of confidential, free resources and services, from preventive care to free health screenings.
Wangler added the company's Take Care program supports a positive, healthy and enriching work and life experience for its employees and their families. This also has a positive impact on the service offered to customers.
Also as part of its commitment to health, ARAMARK offers healthy food and beverage options to improve nutrition besides promoting awareness of health and well-being related campaigns. The company also carries out research to learn about the latest consumer food, nutrition and health trends.