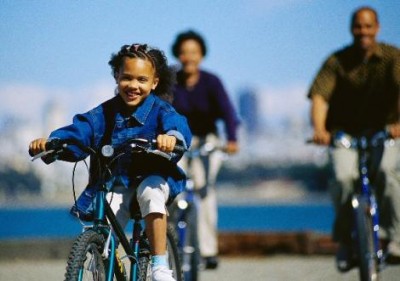 Get into shape with the whole family on Saturday, September 29, National Family Health and Fitness Day (and if you are living close to Southport, CT. why not join us on September 30 for the Bigelow Tea Community Challenge, a great family fitness event!) Bigelow Tea hopes you'll spend some quality time with your family and go have fun in an active way!
The purpose of the day is to increase family involvement in physical activity, so look for local organizations in your area that might be hosting family-oriented fitness activities on the 29. If you can't find one, make your own plan: go on a walk with the family, take a bike ride or play an outdoor sport! Choose an enjoyable activity that everyone will be eager to embrace! No matter what the family decides to do, just have fun outside and get fit! And, of course, there's no better way to finish up a day full of activity than with a nutritious and delicious meal for dinner … and maybe some iced tea too!
Which leads us to our next point … Family Day is being held on September 24, and is also about spending time with the family by eating dinner together. Eating dinner as a family is a great way to enjoy time together, fostering stronger relationships and good habits in children and parents. It's the perfect way to hear everyone's news, celebrate, and connect!  Bigelow Tea has countless dinner recipes that will please even the pickiest eaters. Try our Lemon Ginger Shrimp or The Earl's Peppery Chicken! Pair dinner with a scrumptious treat and you've got the perfect meal to end a day of activity!
So, get happy and cement those family bonds by spending time together on both Family Fitness Day and Family Day!