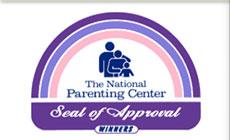 Charlotte, NC (Vocus/PRWEB) November 30, 2010
(PRWEB) November 30, 2010 Informed Therapy Resources (ITR), creator of Turnaround: Turning Fear Into Freedom, is honored to receive The National Parenting Center's 2011 Seal of Approval. The independent review board consisting of parents, educators, and experts in the field of children's education offer advice on children's health, education and review products designed for children. Children are also active participants in product reviews. According to the TNPC, "it is the sole intention of The National Parenting Center to advise, support and guide parents with sound, responsible advice." The center has been reviewing products since 1990 and has an excellent reputation. We are thrilled that TNPC chose Turnaround to be an award recipient and to give such a favorable review.
The National Parenting Center's review of Turnaround states:
"The set impressed our testers with its comprehensive scope. What also resonated with testers was that this was a system that doesn't lecture or try to instantly "fix" the issue; instead it gives children valuable tools to learn how to calm themselves, express themselves and even sleep better. If your child is suffering from any of the issues listed above, you owe it to yourself and them to explore this option."
Turnaround: Turning Fear Into Freedom is designed for anxious children who struggle with, Panic Attacks, Obsessive Compulsive Disorder (OCD), Generalized Anxiety Disorder (GAD), Social Phobia, Separation Anxiety, and other childhood fears related to school stress, parent separation, and social adjustment. It combines the clinically proven techniques of cognitive-behavioral therapy with the creative talents of child authors, actors, and entertainment designers to create a program that is therapeutically effective and highly entertaining for children. This combination of education and entertainment is what makes Turnaround truly unique. It speaks to anxious children in a way that holds their attention and makes learning fun and is a major innovation in the treatment of child anxiety.
The program invites the listening child to join 6 other anxious children on an imagined 10 day hiking trip with two Docs Chris and David, and a mentor teen named Emily. Emily acts as the narrator and guide, while the "Docs" lead the children though each days adventurous lesson. Along the journey, the children meet imaginary characters that make learning the anxiety reducing techniques easy and fun. There's Doliver the mountain man, an old-timer who looks and sounds strange but who's full of wit and wisdom. Krank is a Samurai Warrior who personifies the anxious feelings kids have within their bodies. He's a crazy, sword swinging warrior who grabs the kids attention as they about what's happening in their bodies when they experience fear. Krank's opposite is Chill, a laid back surfer dude who teaches the kids how to relax. There's also Kerplop the talking Beaver, Juan-Carlos the world-famous dog listener, and Detective Watson from Scotland Yard. The talents of 14 child actors and 6 adult actors were utilized to make Turnaround an audio adventure they'll want to listen to again and again. That's the beauty of Turnaround; the kids are learning scientifically researched anxiety busting techniques in way that feels fun, friendly, and emotionally engaging.
The Turnaround Audio Program includes: